Social media is an essential tool in the Clark School's communications strategy. Social media offers the capability to connect in real time with targeted audiences and create communities of followers to raise the reputation of the Clark School and to expand the impact of its achievements. The following is a beginner's guide to integrating social media into your communications strategy.
---
USING TWITTER
What is Twitter?
Twitter is an online social networking platform that allows you short messages, or "tweets," of 140 characters or less. All tweets are publicly visible by default, meaning that anyone on Twitter can see content you have posted, but "followers" that subscribe to your Twitter feed receive direct updates and are more likely to engage by replying and retweeting your content.
Audience
Current students, alumni, prospective students, faculty/staff, other University of Maryland entities, news outlets, corporate partners, government partners, general public
Getting Started
Creating a Twitter Account
To create a Twitter account, click on the following link: https://twitter.com/signup
Choose a username, also called a "handle," that best represents your department, lab or center being mindful of the number of characters used. Short and memorable handles make it easier for followers to engage with you. Shorter Twitter usernames allow more room for message content when people tweet at or reply to you.
Using Hashtags
The # symbol, called a "hashtag," is used to mark keywords or topics in a tweet. This allows you to categorize your content in such a way that any Twitter user who searches for that category will be able to see your tweet, whether or not they follow your account. For this reason, using hashtags increases the likelihood you will draw Twitter followers interested in the types of topics you regularly cover.


Dos and Don'ts for using Twitter
Do
Make sure all information posted is accurate
Monitor mentions and interactions, and respond or retweet as necessary
Use a link shortening service (like http://ter.ps/new.php) to track the number of clicks a certain post gets to learn what works and what doesn't
Shortening especially long URLs also helps to reduce tweet size
Occasionally retweet/favorite tweets from followers
Use relevant hashtags to increase exposure and gain followers
Tweet links to Facebook or LinkedIn postings
Use a conversational tone
Don't
Don't retweet too often, it should feel special to get recognition
Don't follow back every random account that follows you
Don't be afraid to delete vulgar, slanderous, or solicitous comments. Refer to disclaimer section
Don't repost content identical to content featured on your Facebook or other social media pages too frequently. It is okay to recirculate content in new and creative ways, but you want your social media followers to have reason to follow you on Twitter as well as other platforms.
Twitter Content
Twitter is a great place to share links to Clark School new stories, advertise Clark School events, cover large-scale events as they happen (aka live tweeting), and share fun facts. The tone used on Twitter should be more conversational. The goal of your content is to get the reader to click on links you share, retweet your content and ultimately decide to follow your feed. Twitter is a very fast-moving social networking site, so it's important to tweet often, sometimes tweeting the same content more than once in a day, to ensure followers see your content.
Live Tweeting
A very simple way to gain followers on Twitter is by live tweeting events. Make sure to use the same hashtag to gain traction, and encourage others attending the event to tweet about the event using the same hashtag. The following is an example of live tweeting:


Sample Tweets



---
USING FACEBOOK
What is Facebook?
Facebook is a popular social networking site that allows registered individuals and organizations to create profiles, share content (photo, video, text), and send messages to other users. It also allows you to create events, invite guests and track attendance. Similar to individual profiles, organizations like the Clark School and its departments can create public pages for fans to "like."
Audience
Prospective students, current students, parents, faculty/staff, alumni
Creating a Facebook Page
Click on the following link to create a Facebook page for your department, center, lab or other unit: https://www.facebook.com/pages/create/
Choose a page username that is short, memorable and relevant to your department. Choose wisely because page usernames are not transferrable or editable.
Once your page has 25 likes, you can claim a Vanity URL, or a shortened URL. For example, the Clark School's vanity URL for Facebook is https://www.facebook.com/clarkschool and the Women in Engineering page is https://www.facebook.com/UMDWIE.
If possible, make your Facebook URL identical to your Twitter URL (e.g., https://www.facebook.com/clarkschool and https://twitter.com/clarkschool) to make it easy for users to remember both.
Facebook Content
Facebook is helpful in advertising events, sharing photos and video, sharing news and starting conversations. Content presented on Facebook should include images or video whenever possible to entice Facebook fans to click on content.
Timing is important when it comes to posting content on Facebook. Once you have established your page, check out the analytics section of "Facebook Insights." Click on posts and then select the "When Your Fans Are Online" tab. This will give you a good idea of when your fans are most likely to see content you share.
Sample Facebook Posts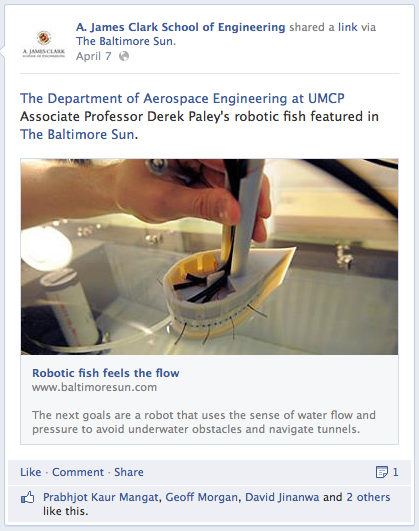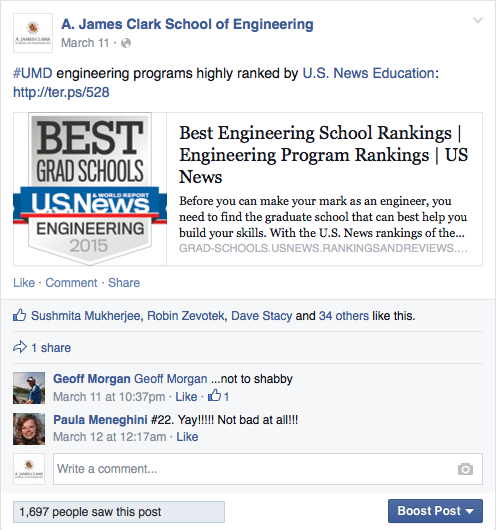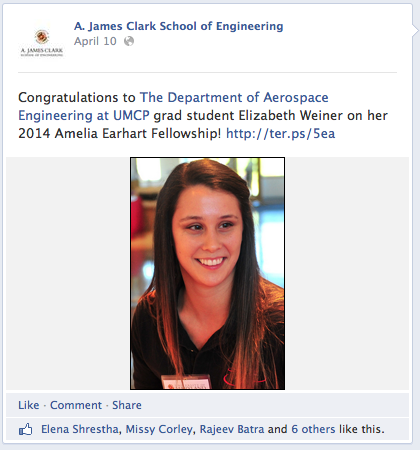 Dos and Don'ts for Using Facebook
Do
Make sure all information posted is accurate
Remember that you're posting as a representative of the Clark School and leave personal views out
Claim a vanity URL (e.g. facebook.com/clarkschool)
Include as much visual content as possible – images and video
Respect copyrights
Use a link shortening service (like http://ter.ps/new.php) to track the number of clicks a certain post gets to learn what works and what doesn't
Create event pages for upcoming events (people can respond to them and receive reminders)
Tag the pages of everyone/everything involved with the post
Frequently link to other Clark School social media pages (Twitter, LinkedIn)
Use casual, conversational language
Don't
Don't feel that you need to post more than once a day on average
Don't compile posts without any photos, if possible
Don't include any personal information about yourself while posting from a Clark School account as the voice behind the Clark School accounts should remain nameless
---
USING LINKEDIN
What is LinkedIn?
LinkedIn is a professional networking tool designed to build professional identity, find professional opportunities, connect with colleagues, and learn the latest news in professional fields.
Audience
Alumni, industry partners, prospective students, current students, faculty/staff
The Clark School has a new LinkedIn University Page to better connect our current students, faculty, staff, alumni and corporate partners. The new page allows members and administrators to share information about events and news via a newsfeed-like stream.
Please direct your units to advertise the new page using the following language:
The Clark School has a new LinkedIn University Page to better connect our current students, faculty, staff, alumni and corporate partners. To be a part of this new experience, open the link below and click the "follow" button in the upper right hand corner: https://www.linkedin.com/school/university-of-maryland---a.-james-clark-school-of-engineering/
Even more importantly, if you are an alum or current student, you can be fully included in our community by adding the Clark School of Engineering to your educational profile.  See the following directions to enhance your LinkedIn experience:
Click on the 'Profile' link located in the top navigation area of the home page. This will take you to the 'Edit My Profile' tab.
Click the 'Edit' link next to the University.
Click the 'Change School' link next to existing University name.
Type in "University of Maryland - A. James Clark School of Engineering." When the name appears, be sure to hover over and click on "University of Maryland - A. James Clark School of Engineering" to ensure proper selection.
Fill out any additional fields as prompted. (Website address is not required.)
Click on the 'Update' button to save your changes.
Thank you for being an active member of the Terp community!
---
HELPFUL TOOLS
Managing Internet "Trolls"
Internet trolls are individuals who post inflammatory or offensive commentary on a public page or forum to elicit angry responses from the people or groups they troll.
To help manage internet trolls, establish a clear, written policy about what types of content will be deleted from the page. The policy should be accessible to the public. Below is a sample social media policy that you can use verbatim or model for your own social media channel. Make sure you follow your own policy for deletion to avoid censorship and denial of first amendment rights.
Sample Social Media Policy
The Clark School of Engineering reserves the right to add, delete or edit content on its social media pages. Any content that is deemed inappropriate by the Clark School of Engineering's social media administrator will be removed. This includes profane, inappropriate, derogatory, or violent language, content, or imagery, as well as spam. This policy applies to Facebook, Twitter, LinkedIn, and YouTube. If a Clark School administrator has been forced to delete more than one comment or posting from a specific user, the Clark School reserves the right to block the offending user.
Sample Social Media Schedule
Finding time to post to social media platforms is important, but often low on the list of many competing needs. Developing a social media content schedule will help to streamline the process so that posting to your social media channels takes no more than 10 to 20 minutes per day.
According to Social Media Today, research suggests the following times are the best to reach audience:
Facebook – between 10 am and 4pm Monday through Thursday.
Twitter – between 1pm and 3pm Monday through Thursday.
LinkedIn – focus on posting before and after business hours, 7 am to 9 am and 5pm to 6pm Tuesday through Thursday.
Online Resources
HootSuite – HootSuite is a social media content management tool that helps save time by managing all social networks. The dashboard allows you to schedule posts and monitor engagement.