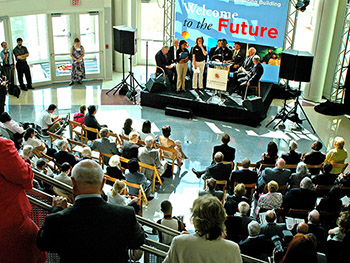 Please read the policies in their entirety prior to submitting the Reservation Form: policy page.
Failure to comply with these policies may result in a charge of $250.00 minimum to your department.
For questions regarding the Rotunda/IHOF, please contact Trashaun Westbury in the Dean's Office at 301-405-8335 or twestbur@umd.edu.
The Rotunda capacity is as follows:

Seating with tables – 120
Seating only – 180
Standing – 220-240

If you require furniture in the Rotunda, you must contact Facilities Management at 301-405-2222 regarding event furniture and services.
If you require a podium in the Rotunda, please select this option when filling out the Reservation Form. This option is only available during normal business hours.
If you are having an evening or weekend event in the Rotunda, you will need to manually turn on additional lighting. The light switches are located in the back of the Catering Room (adjacent to the Kim Kafé); the key for this room can be checked out from the Dean's Office front desk.
Thumbtacks, staples, or adhesives of any kind are not permitted on any walls, doors, or other painted surfaces anywhere within/around the Kim Building.
To sign out the keys for the Kay Boardrooms, Zupnik Lecture Hall, and/or Catering Room, please visit the Dean's Office (Kim Building room 3110).
All keys (swipe keys and hard keys) must be returned immediately after your meeting/event. If your meeting/event ends after business hours, you must return all keys to the appropriate office by 10:00am the following weekday. Failure to return keys will result in a charge of $30.00 per key to your department.