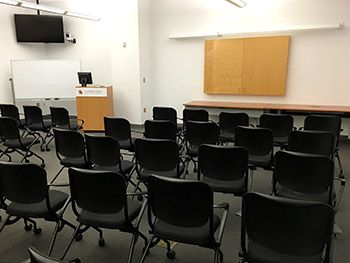 Please read the policies in their entirety prior to submitting the Reservation Form: policy page.
Failure to comply with these policies may result in a charge of $250.00 minimum to your department.
For questions regarding the Pepco Seminar Room please contact: Trashaun Westbury in the Dean's Office at 301-405-8335  or twestbur@umd.edu.
The Pepco Seminar Room is arranged in a seminar style with approximately 49 chairs; there are 4 tables in this room for use. The standing capacity in the Pepco Seminar Room is 49.
Pepco Seminar Room furniture is not to be removed from the room by anyone other than Facilities Management staff. Pepco Seminar Room furniture is not to be moved into the Kay Boardrooms or into the hallway. All tables and chairs must be returned to their original configuration prior to the end of your reservation.
Food and beverages are permitted in the Pepco Seminar Room with the condition that ALL debris and trash be removed after the meeting/event. This includes emptying the trashcans and bringing trash out to the dumpster between the Kim Building and Potomac Building.
Do not move the podium in the Pepco Seminar Room. If you wish to have the podium relocated, please submit a request to eit-help@umd.com at least 24-hours prior to your event.
Classes are not permitted within the reservable spaces, with the exception of Lecture Hall 1110.
Thumbtacks, staples, or adhesives of any kind are not permitted on any walls, doors, or other painted surfaces anywhere within/around the Kim Building.
The use of trashcans or chairs to prop open doors is not permitted.
To sign out the key for the Pepco Seminar Room, please visit the BIOE Main Office (Kim Building room 2330).
All keys (swipe keys and hard keys) must be returned immediately after your meeting/event. If your meeting/event ends after business hours, you must return all keys to the appropriate office by 10:00am the following weekday. Failure to return the Pepco key to the BIOE Main Office will result in a charge of $50.00 to your department.
AV Notes:
PTZ Camera in rear of room