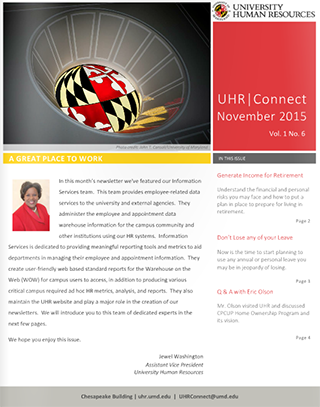 The November 2015 issue of UHR|Connect focuses on Information Services. Information Services is dedicated to providing meaningful reporting tools and metrics to aid departments in managing their employee and appointment information. They create user-friendly web based standard reports for the Warehouse on the Web (WOW) for campus users to access, in addition to producing various critical campus required ad hoc HR metrics, analysis, and reports.
Other interesting topics include: ""Open Enrollment News", "Generate Income for Retirement Workshop", "PRD Midway Feedback", "Health Assessment Reminder", "Schedule Your Leave Now" and more.
Read the online version here.
Or download the pdf version here.