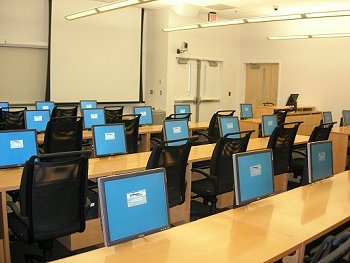 Please observe the following rules when using an Engineering computer lab:
Food and drink is not permitted.

When occupied by classes, do not enter lab.
Do not prop doors open. Computer lab doors are equipped with an alarm system that will alert the police whenever doors are propped open.
To print, you must have a Terrapin Express account with sufficient funds. See our Printing in Computer labs page for more details.
Capacity:
Equipment: 
31 Dell Optiplex 790 PCs
Microsoft Windows 7 x64
Intel i5 Quad Core
16 GB RAM
24" Wide Flat Panel Monitors
16x DVD-ROM
Instructor PC and A/V controls
Connection for Laptop
Surveillance Camera
Projector, ceiling mounted
WEPA Printer Kiosk Available
Technical Support: 
EIT Helpdesk
Hours: 8am-5pm Mon-Fri
301-405-1634
*** If the conference room is booked, please see the list of other conference room spaces.