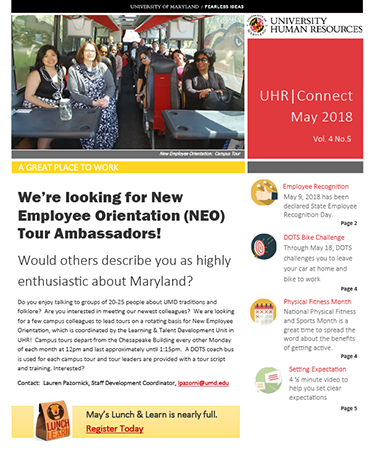 May is here along with the latest installment of UHR | Connect. Inside, everyone is given a big "Thank You" to coincide with Governor Hogan's proclamation of May 9th, 2018 as State Employee Recognition Day.
If your New Year's fitness resolution has gone astray, it's not too late to get back on track since May is National Physical Fitness and Sports Month as well as Bike Month. And with all that exercise, you'll want to get plenty of rest. So learn to Sleep Like a Baby in the May Lunch and Learn series.
While the PRD process has reached its yearly conclusion, now is a good time to prepare for the next cycle by learning to set expectations via courses available at Lynda.com. As always, stay up to date with the UHR Calendar of Events.
You can read the online version or download the pdf version.