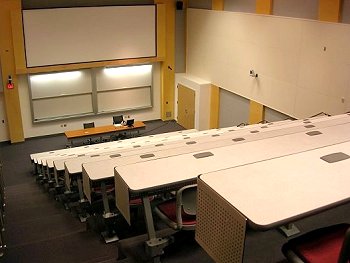 Please read the policies in their entirety prior to submitting the Reservation Form: policy page.
Failure to comply with these policies may result in a charge of $100.00 to your department.
For questions regarding the Zupnik Lecture Hall, please contact Esther Edmonds in the Dean's Office at 301-405-8335 or eedmond1@umd.edu.
Requests for the Zupnik Lecture Hall 1110 must be submitted at least 72 hours in advance of the meeting/event date.
Classes are not permitted within the reservable spaces, with the exception of Lecture Hall 1110. Any class scheduling must be done through the University Scheduling Office. Review sessions for classes are considered meetings/events and should be scheduled through the Dean's Office utilizing the Reservation Form.
ABSOLUTELY NO FOOD AND/OR BEVERAGES ARE ALLOWED IN THE LECTURE HALL. Failure to comply will result in a charge of $100.00 to your department. If you have an event in the Lecture Hall but wish to serve food/beverages, the Rotunda, Kay Boardrooms, or Pepco Seminar Room should be added to your reservation for this purpose.
The Lecture Hall seats 100 people.
This room has a fixed seating arrangement that cannot be altered.
Thumbtacks, staples, or adhesives of any kind are not permitted on any walls, doors, or other painted surfaces anywhere within/around the Kim Building.
The use of trashcans or chairs to prop open doors is not permitted.
To sign out the keys for the Kay Boardrooms, Zupnik Lecture Hall, and/or Catering Room, please visit the Dean's Office (Kim Building room 3110).
All keys (swipe keys and hard keys) must be returned immediately after your meeting/event. If your meeting/event ends after business hours, you must return all keys to the appropriate office by 10:00am the following weekday. Failure to return keys will result in a charge of $30.00 per key to your department.
AV Notes:
Cameras link directly to Production room