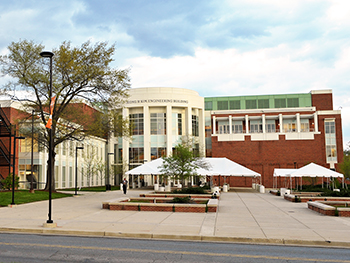 Please read the policies in their entirety prior to submitting the Reservation Form: policy page.
Failure to comply with these policies may result in a charge of $100.00 to your department.
For questions regarding the Kim Plaza, please contact Larniece Brown in the Dean's Office at 301-405-8335 or lbrown34@umd.edu.
The Kim Plaza capacity is as follows:

Seating only - 250
Standing - 1000

The Kim Plaza refers to the open area in front of the Kim Building.
Requests for the Kim Plaza submitted by units outside of the A. James Clark School of Engineering will be subject to review; scheduling will be dependent upon approval.
EIT assistance and equipment is not available for this space.
All trash must be removed and taken to the dumpster between the Kim Building and Potomac Building.
Thumbtacks, staples, or adhesives of any kind are not permitted on any walls, doors, or other painted surfaces anywhere within/around the Kim Building.